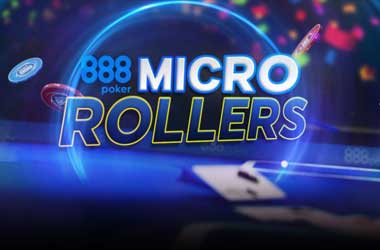 Summary:
Micro Rollers feature buy-ins of between $1 and $5.50, offering $150K in total guarantees each week
The schedule includes a $3.50 Main Event which comes with a $10,000 guarantee
There are freerolls available as well, guaranteeing nearly 500 seats daily
888poker has launched a new tournament schedule designed for low-stakes players. Named "Micro Rollers", the new set of tournaments offers at least $150,000 in guaranteed prizes each week in November.
Players can buy-in and win their share of the $150,000 for as little as $1.
The new Micro Rollers schedule marks 888poker's latest effort to enhance its low-stakes offering in a bid to attract more recreational players to the site. In October, the operator ran another edition of the popular ChampionChip Series which also caters to low-stakes players. The series ended up awarding over $500K in total prizes across 29 events.
New Micro Rollers Providing Huge Value for Players
The new Micro Rollers schedule features tournaments with buy-ins ranging from $1 to $5.50. Most of the tournaments have four-digit guarantees, providing great value for players.
Standing out from the line-up is the Micro Rollers – Main Event, a multi-flight tournament that offers $10,000 in guarantees for an affordable buy-in of $3.50. It tops the list in terms of value with more than $2,850 $GTD/$BI. Day 1s run throughout the week, with the final action taking place every Sunday.
The second largest value is on offer in Micro Rollers – Mystery Bounty 1 which has a buy-in of only $1 but comes with a $2,000 guarantee – that's $2,000 $GTD/$BI worth of value.
The new tournaments all offer huge three-digit values, some of which at $900. They feature formats popular with players such as Mystery Bounty and PKO.
888poker's newest offering gives low-stakes players a fresh opportunity to build their bankroll and step up their game as they compete for more than $150,000 in guaranteed prizes each week. What's more, players can secure their Micro Rollers seat without spending a penny! That's made possible through freeroll tournaments running daily on 888poker.
Daily Freerolls Awarding Seats to Micro Rollers
The new Micro Rollers schedule is complemented by daily freerolls which award seats to some of the tournaments. There are four freeroll games available daily that players can take a shot at, guaranteeing nearly 500 Micro Rollers tickets.
The freerolls feed into Micro Rollers – Mystery Bounty 1 (200 seats GTD), Micro Rollers – Big Shot 3.30 (90 seats GTD), Micro Rollers – Mystery Bounty 5.50 (90 seats GTD), and Micro Rollers – PKO Rumble 2.0 (115 seats GTD).